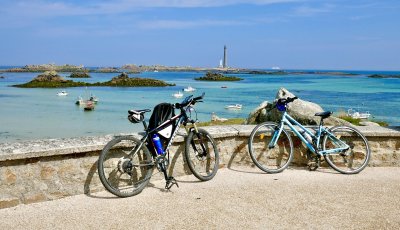 Cycle tours on the bike paths of vélomaritime
Jump on your bike at your hotel in Lannion in Brittany and set off on the cycle trails of La Vélomaritime® EuroVelo 4.
Enjoy the Vélomaritime from your hotel in Lannion Center
From Plouër-sur-Rance to Plestin-les-Grèves, the Vélomaritime® is a 1,500 km cycle route that links Roscoff in Brittany to Dunkirk in the North, passing through legendary sites such as: the Côte de Granit Rose, Mont-Saint-Michel, the D-day landing beaches, the cliffs of Étretat, the Baie de Somme or the Opal Coast.
Its route passes just a few kilometers from our Arcadia hotel in Perros Guirec. Do not hesitate to consult us for the rental of bicycles and start exploring the beautiful cycle paths of Brittany.
Sights to see from the Vélomaritime, a few kilometres from your charming hotel in Perros Guirec
From Ploumanac'h, just 10 km by bike from your Arcadia hotel near Perros Guirrec, pedal the vélomaritime to Tourony beach in Trégastel, in the heart of the emblematic Côte de Granit Rose. These 13 kilometers round trip by bike allow you to discover astonishing sites such as the Crac'h mill or the Christian Gad Sculptures Park.
Not to be missed, the Traouïero Valley. This magical place of thick undergrowth in two deep valleys where the Kérougan stream winds. And on your way, visit the Lepers' cave, the smugglers' cave and the Korrigans' village.